Carbon Fines Gold Recovery Incinerator
Carbon Fines Gold Recovery Incinerator
Our Carbon Fines Incinerator is the tried and tested method for recovering gold from carbon fines removed from the elution circuit. Our technology has been adopted by most of the major mining houses and gold recovery firms.
The carbon fines incinerator utilises a thermal process that burns off the carbon and other combustibles and captures the gold ash in a high efficiency filtration system.
The process has been optimised to ensure extremely low amounts of unburnt carbon, separation of most of the grit and silica from the ash, high fuel efficiency, and extremely high levels of recovery.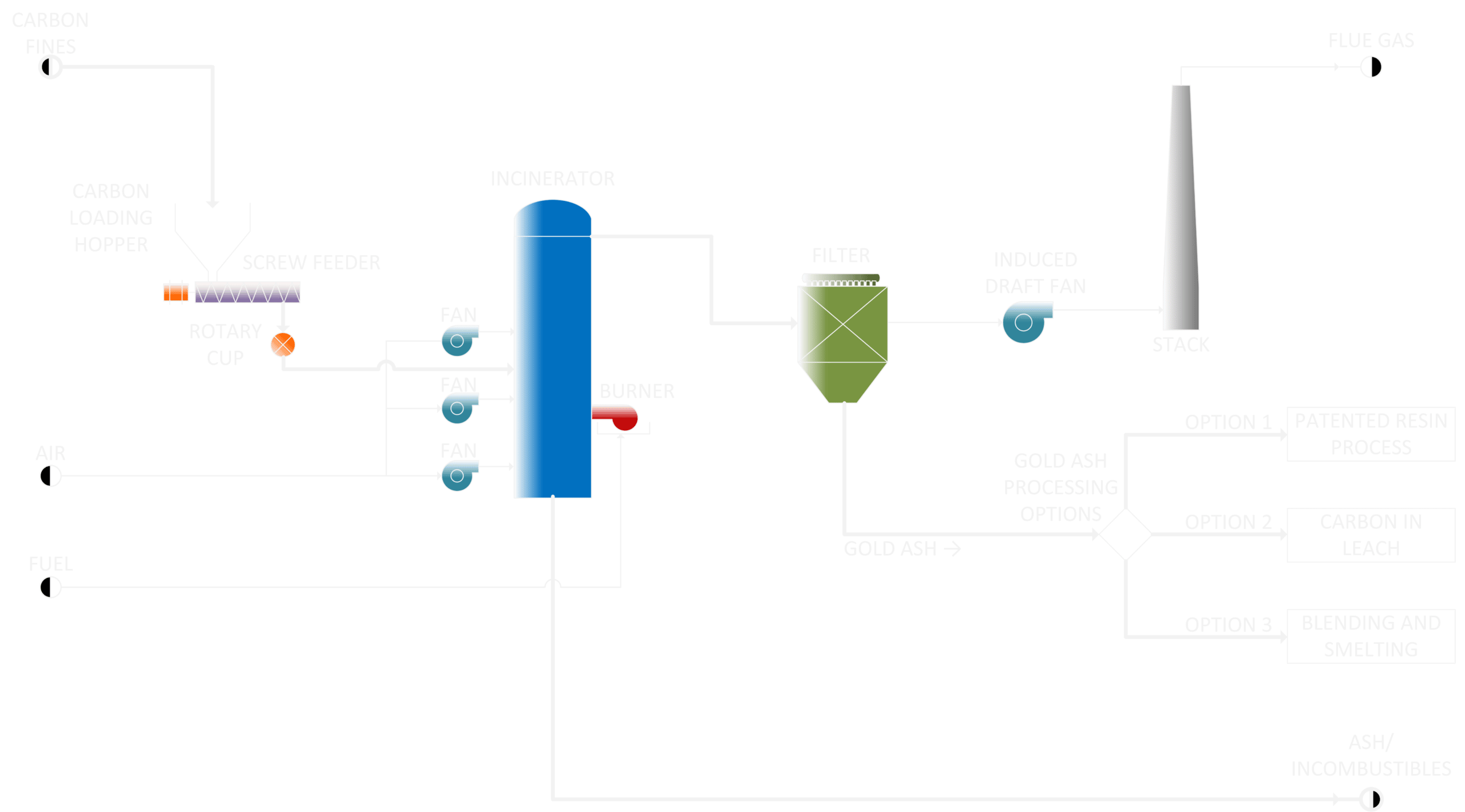 Certification
Macrotec is certified to the following standards:
ISO 9001:2015 | Quality Management Systems
ISO 14001:2015 | Environmental Management Systems
ISO 45001:2018 | Occupational Health & Safety Management 
Low Operating Costs
Since we employ a continuous thermal process, most of the energy required for the reaction comes from the oxidation (burning) of the carbon, with minimal auxiliary fuel needed.
Reliability & Maintenance
Low maintenance and high reliability are critical features to all our products. A simplified design with few moving parts translates into less maintenance and longer running times.
Environmental Impact
The process is inherently low impact, as it requires no chemicals, combustion takes place at a high temperature, and the filtration unit removes all particulate matter.
High Recovery Rates
Overall recovery rates of 85-95%, depending on the secondary treatment method used and initial gold loading.
Continuous Operation
Our systems operate on a continuous basis, processing 10/60/90 kg/h of carbon fines, depending on the model size. Since it is a continuous process and not a batch process, it makes for very easy operation, and large fuel savings.